Online Users

137 Guests, 51 Users (3 Hidden)
jasonmorash1, birdgunnnersrule, pipstah, Drummy, camochick, Sailing Instructor, gryphon664, Lexi, muskrat89, saint1, ab136, Recce41, Ralph Wigum, serac, Q.Y. RANG, 2799, Mike Bobbitt, Rusty Old Joint, mbhabfan, Phillman, Shec, Rounder, Horse_Soldier, Herc, J-Swift, Kampfhamster, MCG, Stephen McComb, Veterans son, Highland Laddie, JJ, SigOp Guy, my72jeep, cfn856, ibucephalus, gun plumber, MJP, patty, x-grunt, Unknown C/S, Gunnar, Cpl. Williamson, JD, Britney Spears, The Crowe, dglad, Sh0rtbUs, J_Blay, Hoplite
Statistics
Total Members: 4713
Total Posts: 137856
Total Topics: 14532
Total Categories: 5
Total Boards: 36
2nd Battalion, The Irish Regiment of Canada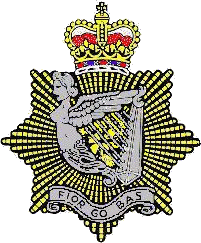 ---
Armorial Description
Superimposed on an eight pointed chipped star, an Irish harp; below the harp a scroll inscribed with the motto FIOR GO BAS; ensigning the harp and super- imposed upon the topmost point of the star, the Crown.
---
Official Abbreviation: 2 Irish R of C

Motto: Fior Go Bas (Faithful unto death)
---
Battle Honours (22)
First World War
ARRAS, 1917,'18
HILL 70
Ypres, 1917
AMIENS
SCARPE, 1918
DROCOURT-QUTANT
HINDENBURG LINE
CANAL DU NORD
PURSUIT TO MONS
FRANCE AND FLANDERS, 1917-1918
Second World War
LIRI VALLEY
MELFA CROSSING
GOTHIC LINE
MONTECCHIO
CORIANO
LAMONE CROSSING
Fosso Munio
Conventello-Comacchio
ITALY, 1943-1945
IJSSELMEER
DELFZIJL POCKET
NORTH-WEST EUROPE, 1945
Colonel-in-Chief: None

Authorized Marches:
Quick March: Garry Owen
Slow March: Endearing Young Charms

Regimental Headquarters:
333 Riverside Drive
Sudbury, Ontario
P3E 1H5

Location of Sub Units: Sudbury, Ontario

Alliances:
The Royal Irish Regiment
St Patrick's Barracks, Ballymena, Northern Ireland

Location of Museums:
Museum:
The Armoury
Sudbury, Ontario
Memorial:
Memorial Park
---
Order of Precedence: 46
---
Go back to the Infantry Regiments page.
Go back to the Army home page.
Today in Military History
December 24
Photo of the Moment