Recent Uploads

Image Magick Error: composite: unable to open image `/var/www/html/album/Avatars/thmb_Blackhawk01.png': No such file or directory. composite: missing an image filename `/var/www/html/album/Avatars/thmb_Blackhawk01.png'.
Online Users

155 Guests, 62 Users (3 Hidden)
gun plumber, Ex-Dragoon, Matt_Fisher, yukon, Recruit Konyi, x-grunt, Apocalypse, Brangwyn Jones, CD, Morpheus32, 1st fdmpc, Gunnar, MP 811, patty, brin11, Inch, cullach, Bean, Navalsnpr, Johnny_H, Bomber, Rusty Old Joint, sm0ke, Mike Bobbitt, Horse_Soldier, lostmuskrat, Acorn, Q.Y. RANG, 2799, boothrat, ex-Sup, FSgt_mandal, MJP, Q.Y. Ranger, RatCatcher, Bob F., argylls_recruiting, radiohead, Goober, Old Guy, Zook, MSE_OP18, Maritime_Matt, Rman, Da_man, c4th, Che, greener, Jungle, JD, Petrus, Michael OLeary, Zoomie, Nug, mbhabfan, scm77, Veterans son, Kevin_B, ab136, rittsR0178E, the 48th regulator
Statistics
Total Members: 4773
Total Posts: 139486
Total Topics: 14624
Total Categories: 5
Total Boards: 36
The Royal Highland Fusiliers of Canada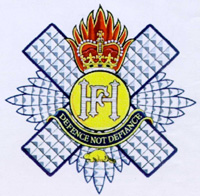 ---
Armorial Description
A grenade fired proper, with the monogram HF, the flame surmounted by the Royal Crown proper, superimposed on the cross of St. Andrew. At the base of the grenade is a motto ribbon bearing the word CANADA. The whole is embellished by a glory.
---
Official Abbreviation: RHFC

Motto: Defence, not Defiance
---
Battle Honours (28)
First World War
MOUNT SORREL
YPRES, 1917
SOMME, 1916
AMIENS
ARRAS, 1917, '18
HINDENBURG LINE
HILL 70
PURSUIT TO MONS
Second World War
NORMANDY LANDING
THE SCHELDT
CAEN
Savojaards Platt
THE ORNE (BURON)
Breskens Pocket
BOURGUEBUS RIDGE
THE RHINELAND
Faubourg de Vaucelles
Waal Flats
FALAISE
The Hochwald
THE LAISON
Chambois
Zutphen
BOULOGNE, 1944
Leer
Calais, 1944
North-West Europe, 1944-1945
---
Regimental Headquarters:
The Armoury
Mill St.
Cambridge, Ontario
N1R 3P1
---
Order of Precedence: 12
---
Go back to the Infantry Regiments page.
Go back to the Army home page.
Today in Military History
December 29
1943:
POINT 34 or TORRE MUCCHIA, effective dates for battle honour begin (to 4 Jan 44)