Army.ca Legend
Subscriber
Donor
Reaction score

60
Points

530
Problem in Vancouver is that those people can`t afford to live here, even my friend who is RCMP and his wife is a ER nurse, could not afford to buy a apartment here in North Van. Housing prices have disconnected from the local wages, small companies are moving to the suburbs to be closer to workers and to avoid traffic jams.
Not sure that that is a new problem either.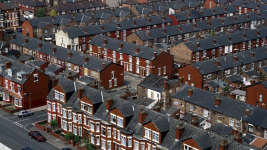 This is a common image of industrial era cities - terraces, row houses, tenements. Nearly all have passed through phases as "low rent" districts.
They are what Karl Marx was seeing when he wrote Das Kapital.
What most people fail to realize is that these were built as model homes. They were designed to attract, and keep workers from the farms. The mill owners saw it as being in their best interests to treat their workers well. They didn't have a ready supply of knowledgeable workers. They had to attract them and train them and keep them. So they built new single family dwellings with, originally, long back yards for growing vegetables and keeping chickens and pigs. They built churches for the community and libraries and schools for the kids to train the replacements for the parents.
And they were successful in attracting farm workers and turning them into mill workers. And more farm workers wanted to become mill workers.
And the mill workers started subletting their houses, probably to family, and then subdividing the houses. And you ended up with more people than the services in the area were designed to handle. And then you found Karl Marx's slums.
The basic "problem" was that the terraces were designed by successful middle class gentry used to living in single family dwellings but were occupied by large, extended families of agricultural labourers used to "pigging in" on top of one another in crowded conditions. In 1904 my grandfather's mother was taking in boarders in her country row house. She was a miner's wife. She lived in a group of 8 adjoining houses sharing one common washhouse/laundry and a common dry privy where you dumped quicklime instead of flushing. Each house had two rooms. A front room and a kitchen. And she took in boarders...
These are the same people that were living in tenements. They could tolerate living a little rougher than the middle class gentry anticipated.
Slums weren't created by owners. They were created by workers. Workers that aspired to work in the city but couldn't afford to live there. And they couldn't afford to live there because they were competing for jobs that weren't there. Surplus labour. So the owners no longer had to worry about attracting a work force. The workers were competing to replace each other.
Meanwhile the middle class gentry relocated away from the over-flowing tenements.
It's only a little over two centuries ago that Richard Arkwright built his first factory for cotton manufacturing in what is now the centre of the city of Manchester.