Reaction score

80
Points

530
I'm usually impressed by the thoughts that come from The Wavell Room but this suggestion smacks of a nostalgic yearning for a time when a misunderstood yout* only needed the discipline of service life to put him on the straight and narrow. And while there will be those who either exclaim that they are one of those who benefited from the jail or army option or know of an outstanding SNCO who came in that route, I'll admit I've heard of some success stories, but I also know of just as many or more who skated on the line outside the service and were as bad or worse when in uniform.
To carry forward from some of the quoted figures, particularly . . . "around 29,000 are between the ages of 18 and 29, the recruiting age range for the Forces. 10,000 of the total population are being held on sentences of 2 years or less. You can be awarded a 2-year sentence just for carrying a knife and this is not uncommon amongst an urban youth fearful of violence."
So the target prison population that would benefit from such a program (and likewise HM's Armed Forces) would ideally be a non-violent first-time petty offender. But are those individuals actually in prison in the numbers suggested?
First-time offenders?
First time offenders account for less than 8% of prison sentences

Fewer than one in twelve prisoners are there for a first offence. A prisoner is much more likely to have at least 46 previous convictions or cautions than to be a first time offender.

As above, with the overwhelming majority of prisoners serious or repeat offenders – or both – there are very few who are neither. Non-custodial sentences are far more likely to be imposed than prison unless the offence is serious or the defendant has already committed a substantial number of previous offences.

It is especially rare for the Magistrates' Courts to impose a custodial sentence on first-time offenders. Of the 249,000 individuals convicted or cautioned for a summary offence, only 521 (0.2%) were first-time offenders who received a custodial sentence.
Non-violent petty offenders?
1.3 Sentence length and offences

As at the end of March 2020 the most frequent length of sentence being served was a determinate sentence of over 4 years. Around 48% of the sentenced population were serving this length of sentence. About a quarter of prisoners were serving sentences ranging between 1-4 years and around 13% had indeterminate sentences.

Prisoners in custody for violence against the person (VATP) offences accounted for the highest proportion of prisoners at the end of March 2020 (28%). Sexual, theft and drug offences each accounted for between 12% and 18% of the reason offenders were in prison. As shown in the chart below, VATP accounted for the largest share of adult and juvenile offenders in custody. However, a smaller proportion of juvenile offenders were in prison for sexual offences and a larger proportion were in for drug offences, robbery, and possession of weapons.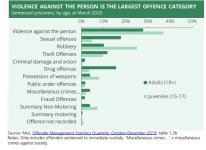 I think, on closer examination of the data, the numbers as suggested in the Wavell Room piece aren't really there.
*
a reference to "My Cousin Vinny"