The Royal Canadian Armoured Corps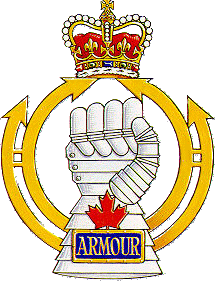 Role of Armour:
To defeat the enemy through the aggressive use of firepower and battlefield mobility.
---
Motto of the Armoured Corps:
Through the mud and the blood to the green fields beyond.
(General Worthington)
Regiments of the Armoured Corps:
From West to East:
The British Columbia Regiment (Vancouver, BC)
The British Columbia Dragoons (Kelowna, BC)
Lord Strathcona's Horse (Royal Canadians) (Edmonton, AB) *
King's Own Calgary Regiment (Calgary,AB)
South Alberta Light Horse (Edmonton and Medicine Hat, AB) (B Sqn)
Saskatchewan Dragoons (Moose Jaw, SK)
The Fort Garry Horse (McGregor Armoury, Winnipeg Manitoba, R2W 1A8)
Windsor Regiment (Windsor, ON)
The 1st Hussars (London and Sarnia, ON)
The Queen's York Rangers (Toronto and Aurora, ON)
The Ontario Regiment (Oshawa, ON)
The Royal Canadian Dragoons (Petawawa, ON) *
Le Regiment de Hull (Hull, PQ)
The Royal Canadian Hussars (Montreal and St. Hubert, PQ)
Le 12e Regiment Blinde du Canada (Milice) (Trois-Rivieres, PQ)
The Sherbrooke Hussars (Sherbrooke, PQ)
The 8th Canadian Hussars (Moncton and Sussex, NB) (Total Force)
The Prince Edward Island Regiment (Charlottetown and Summerside, PEI)
NOTE: Regiment's denoted with a * are Regular, the remaining Regiments are Reserve.
---
Options: